The 2021-22 college basketball season is over, with Kansas winning the national championship. And while Jayhawks fans will hold onto this one for awhile (read: all their lives), the rest of the college basketball world is turning the page to 2022-23.
There's no real word for how difficult it is to get a truly accurate snapshot. Over the next few weeks, NBA decisions will paint a bit clearer picture, one that will gain even more clarity as players pull their names back out after testing the waters and teams explore the transfer portal to fill those final few holes, or in some cases, to fill out a depleted roster. Remember: at this point last year, Kansas and North Carolina didn't have Remy Martin and Brady Manek, a pair of transfers who pushed each team to the national title game. The Tar Heels had only announced Roy Williams' retirement a few days earlier. So there's a level of uncertainty here.
But where's the fun in not trying? 247Sports basketball writers Kevin Flaherty and Isaac Trotter combed through the teams, looked at likely returnees and recruiting classes and picked a Top 23 for 2023. One rule: a projected first-round player — we used ESPN's most recent NBA Mock Draft (Insider) — is out. Could they return to school? Of course. But those players are significantly less likely to do so. Other than that, we've tried to keep our ears to the ground and talk to our terrific crop of recruiting experts and team site reporters to get a feel for what players may be thinking.
Get the fastest scores, stats, news, LIVE videos, and more. CLICK HERE to download the CBS Sports Mobile App and get the latest on your team today.
Here's a look at 247Sports' Way-Too-Early rankings for the 2023 season.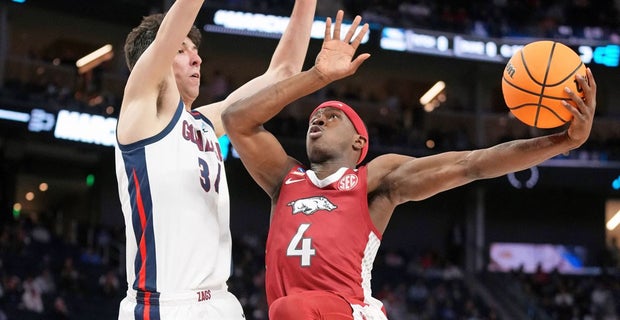 Projected Starting Lineup: Anthony Black, Nick Smith, Devo Davis, Jordan Walsh, Jaylin Williams
247Sports Composite class ranking: No. 2
Look at that starting lineup. Just … look at it: three 247Sports Composite five-stars and two potential All-SEC players. Arkansas has an absolutely loaded recruiting class, with five-star prospects in Black, Smith and Walsh, with Smith being the most likely standout. But Black being a 6-foot-7 point guard gives Eric Musselman exactly what he wants with a big, switchable lineup defensively, and there are a number of scoring threats and even some solid depth — Black, Smith and Walsh are just the headliners in a class that includes three more four-star players. Williams is testing the NBA Draft waters, but should come back, and even if he doesn't, Arkansas added an intriguing talent in Missouri transfer Trevon Brazile. Talent galore.
Projected Starting Lineup: Sahvir Wheeler, Cason Wallace, Chris Livingston, Keion Brooks, Oscar Tshiebwe
247Sports Composite class ranking: No. 25
The National Player of the Year, Tshiebwe coming back is a big key to this ranking, though the Wildcats appear to be on the prowl for transfer portal big men just in case. Brooks is testing the NBA Draft waters, and we didn't include Shaedon Sharpe, a potential talisman, because he's a projected top-10 pick. Wallace and Livingston are five-star prospects, and Wallace's commitment to defense will be welcomed immediately. Is there enough outside shooting at this point? It's too early to worry about something like that, though it becomes an interesting question if plugging Jacob Toppin in at the four in that lineup.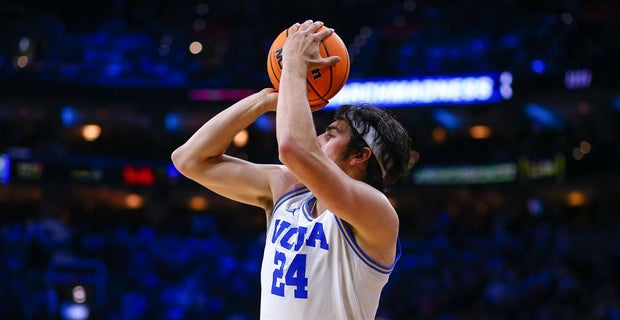 Projected Starting Lineup: Tyger Campbell, Amari Bailey, Johnny Juzang, Jaime Jaquez, Adem Bona
247Sports Composite class ranking: No. 8
Both Juzang and Jaquez could wind up in the NBA Draft, though neither is a projected first-round pick at this point. And with Jaylen Clark and Peyton Watson on hand, the Bruins are more than equipped to deal with the absence of either player should one jump to the pros. Bailey is the No. 2 overall player in the 247Sports Composite, and he can add some athletic oomph and shot creation to a team that could use it. Bona is a five-star big man with terrific athleticism as well, and could be a key to this team's national title hopes as he continues to develop. Also, don't forget about former top-50 big man Mac Etienne, who could form a high-upside platoon with Bona.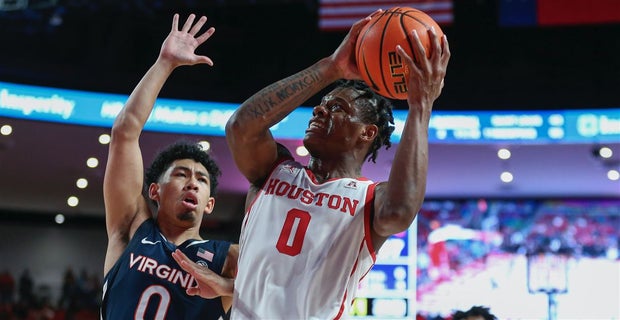 Projected Starting Lineup: Jamal Shead, Marcus Sasser, Tramon Mark, J'Wan Roberts, Jarace Walker
247Sports Composite class ranking: No. 27
The Cougars were better than they had any right to be in 2021-22 after losing Sasser and Mark for the season. But their absence allowed Shead to find his footing, and the trio should combine to be the best backcourt in college basketball next year. Don't sleep on the Cougars' frontcourt either, particularly with the boost of a frontcourt that adds two top high school talents in Walker, the top-ranked power forward in the 247Sports Composite, and another top-40 player with big game in Terrance Arceneaux. Houston will still be a physical, defense-minded team that climbs on the glass because that's Kelvin Sampson's identity, but this team could have more pop than previous versions, too.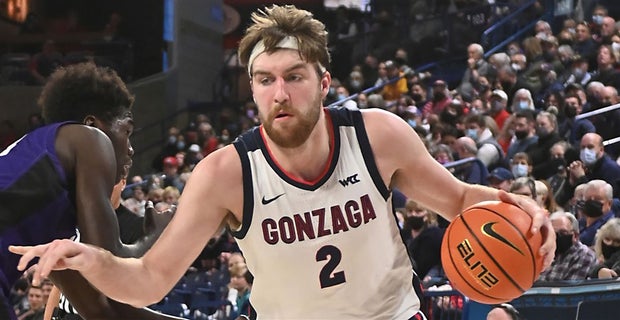 Projected Starting Lineup: Nolan Hickman, Dominick Harris, Julian Strawther, Anton Watson, Drew Timme
247Sports Composite class ranking: No. 85

The elephant in the room is Timme, a two-time All-American, who quite frankly doesn't have much else to prove at the college level. But neither is he a projected first-round pick, and if he returns to school, the Bulldogs will have the making of another Final Four contender with Timme scoring on the inside and Strawther continuing to grow as a shooter and scorer. Keep an eye on that backcourt, which also includes second-year guard Hunter Sallis on the wings. Watson, Hickman and Sallis were the Bulldogs' top-three players off the bench. Harris could have been a key piece this year, but he missed the season with an injury. His tough scoring would be a big plus. Don't be surprised to see a big transfer or two, and Gonzaga's player-development program is widely regarded as one of the best in the country.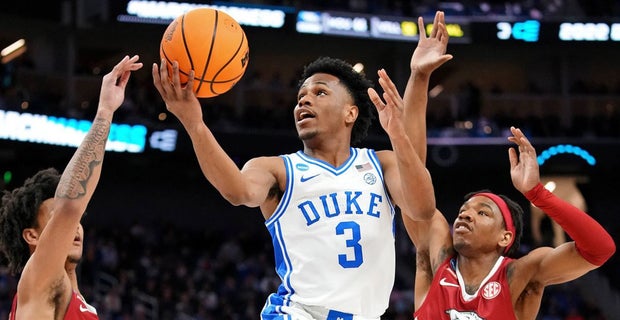 Projected Starting Lineup: Jeremy Roach, Dariq Whitehead, Mark Mitchell, Kyle Filipowski, Dereck Lively II
247Sports Composite class ranking: No. 1
The Jon Scheyer era starts off with a loaded recruiting class that could fill as many as four starting spots. It might be one less, depending on the decision of Wendell Moore, who projects as a late-first, early-second rounder. But Roach would give the team a bit of a steadying presence after improving over the course of this season, and most teams are going to struggle to deal with the length and athleticism of those four projected freshman starters, all of whom rank among the top 13 prospects in the class, according to the 247Sports Composite. Lively and Filipowski are the Nos. 1 and 3 players in the class, respecively, and will likely play together, with the 6-foot-11 Filipowski comfortable playing away from the basket and the 7-foot-1 Lively a long athlete at center. Jaden Schutt could play a valuable role as a shooter off the bench.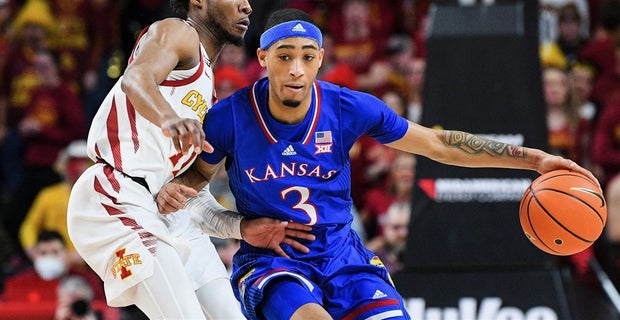 Projected Starting Lineup: Dajuan Harris, MJ Rice, Gradey Dick, Jalen Wilson, Zach Clemence
247Sports Composite class ranking: No. 4
The defending national champions. Christian Braun is currently projected as an early second-round pick, but the odds of Kansas returning both Braun and Wilson seems small. The Jayhawks could lose both, but we have Wilson returning here and playing next to the Jayhawks' two incoming five-star wings. Kansas will once again have a deep roster; with development, Bobby Pettiford could start to show why the staff was so high on him earlier this year and push for time behind and next to Harris and Joseph Yesufu. And while Clemence's experience gives him the leg up here over incoming big men Ernest Udeh or Zuby Ejiofor, Bill Self will be spoiled for choice in options. Clemence was an elite-level outside shooter out of high school, and he shot well before he was injured this season; Udeh is more of a rim runner and rim protector.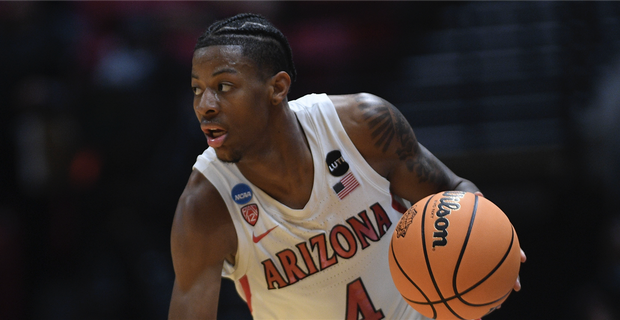 Projected Starting Lineup: Kerr Kriisa, Pelle Larsson, Dalen Terry, Azuolas Tubelis, Christian Koloko
247Sports Composite class ranking: No. 73

It's a shame that Kriisa wasn't healthy for the Wildcats' NCAA Tournament run, though Houston would have been a tough out regardless. What that does do is give him plenty of motivation, and don't be surprised if he takes the next step and becomes one of the Pac-12's best point guards. But the attraction here is the chance for the frontcourt duo of Tubelis and Koloko to return. Koloko was one of the nation's best two-way big men and currently projects 36th in ESPN's most recent mock draft. So there's a chance the Wildcats run this thing back, and with Terry continuing to grow into Arizona's next pro-ready wing, the Wildcats won't lack for star power. The Wildcats, like a number of teams, figure to be players in the transfer portal this year.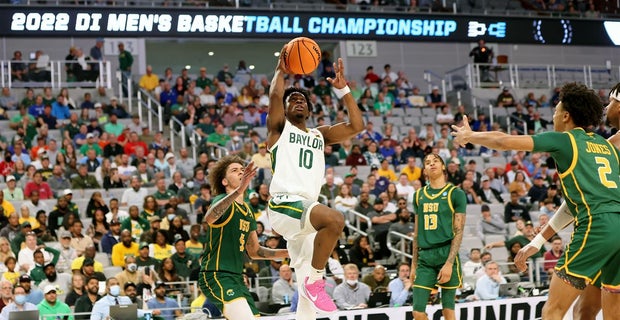 Projected Starting Lineup: Dale Bonner, Adam Flagler, LJ Cryer, Keyonte George, Flo Thamba (?)
247Sports Composite class ranking: No. 21

That question mark makes things a bit more interesting: word is that Baylor could get its starting center back for his extra year of eligibility. And that could be big, as it's unclear when exactly Jonathan Tchamwa Tchatchoua will be fully recovered from this year's injury. Baylor may also choose to tap into the transfer market to get a legitimate four, rather than playing four guards like projected here. But make no mistake: the strength here is in Baylor's backcourt. Flagler was Baylor's best guard down the stretch, and could be an All-American next year. Cryer was Baylor's leading scorer when he left the court with an injury, forcing Bonner from a hot pan into the fire. And George is the No. 4 player in the 247Sports Composite and a gifted scorer.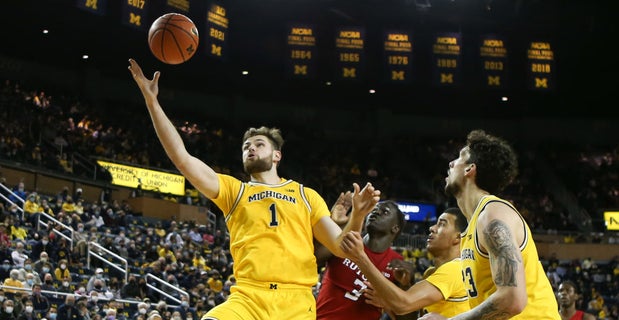 Projected Starting Lineup: Frankie Collins, Kobe Bufkin, Caleb Houstan, Moussa Diabate, Hunter Dickinson
247Sports Composite class ranking: No. 7
Getting an All-American back in Hunter Dickinson? Yes please. Houstan and Diabate are former five-stars, who both looked like NBA players at various points this year. Given the chance to develop over a whole offseason, they could hit those peaks more often in 2022-23. Frankie Collins and Kobe Bufkin are likely to take over for the departed Eli Brooks and DeVante' Jones; Collins was excellent in the NCAA Tournament against Colorado State, and Bufkin is likely to hit more jumpers next year after his shot was off his freshman year. Freshman Tarris Reed gives the Wolverines another big center to give Dickinson more cover, while Juwan Howard's son, Jett, could factor in on the wing quickly.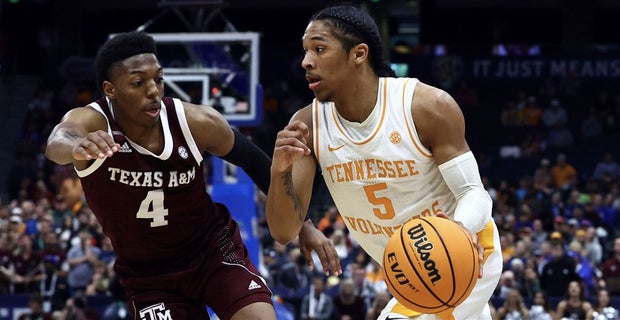 11. Tennessee
247Sports Composite class ranking: No. 74
Kennedy Chandler is likely moving on, but there's a ton to like about a backcourt that features Zakai Zeigler and Santiago Vescovi (who is testing the waters, but should return). Josiah-Jordan James will also be back to do the dirty work, and the Volunteers' second and third most-used lineups down the stretch included some combination of Jordan-James, Uros Plavsic and Brandon Huntley-Hatfield at the four/five spots.
12. North Carolina
247Sports Composite class ranking: No. 11

Keep an eye on Caleb Love, who had some bright moments this March and April. But even if he doesn't return, the Tar Heels are likely to pair R.J. Davis with Armando Bacot yet again, have some young players developing around that duo and should be a major player in the transfer portal. If Love does return for another season, bump the Tar Heels up by a pretty solid margin; that's an awfully good top three.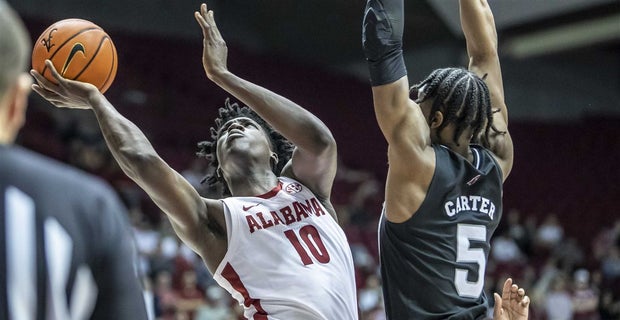 13. Alabama
247Sports Composite class ranking: No. 3
Jahvon Quinerly's ACL tear certainly limits his chances to truly test the NBA Draft waters, but might not keep him from being ready for a return to the court for the Crimson Tide. If he comes back, he'll join top-notch recruiting class that features four top 60 recruits, including two five-star talents in Brandon Miller and Jaden Bradley. Should Charles Bediako take a step forward (and if JD Davison returns) there won't be many teams with more talent, and a transfer or two could provide the kind of glue that the Crimson Tide missed this season.
14. Creighton
247Sports Composite class ranking: No. 54

How many teams had a better freshman class than the Bluejays, with Ryan Nembhard, Trey Alexander, Arthur Kaluma and Rati Andronikashvili? If players truly take their biggest leaps between their freshman and sophomore seasons, Creighton has a lot of improvement to look forward to. That doesn't count players like Ryan Kalkbrenner coming back, either. Remember: neither Nembhard, nor Kalkbrenner, played in the close second-round loss to Kansas.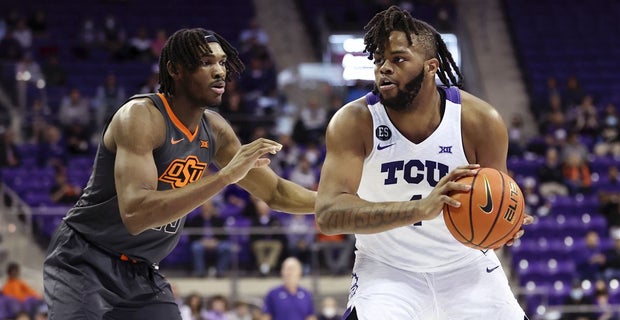 15. TCU
247Sports Composite class ranking: No. 87
Mike Miles heading to the NBA Draft is far from ideal; he was the Horned Frogs' biggest star. But TCU looks ready to bring back at least three starters and potentially four if Chuck O'Bannon takes his extra year. Most teams will struggle to match up with Eddie Lampkin inside (remember: he was just a freshman this year), and TCU's swagger and work on defense produced a top-20 unit. Get another point guard and scorer in the transfer portal and look out.
16. Iowa
247Sports Composite class ranking: No. 58

OK, so Keegan Murray is gone. But Kris Murray was a pretty salty option off the bench this year, and he'll join forces with Patrick McCaffery, Tony Perkins and Payton Sandfort to field a team that should once again be among the Big Ten's best. With Filip Rebraca announcing his return for his extra season of eligibility, Iowa returns five of its top eight from the Hawkeyes' lineup in the Big Ten Tournament title game win over Purdue.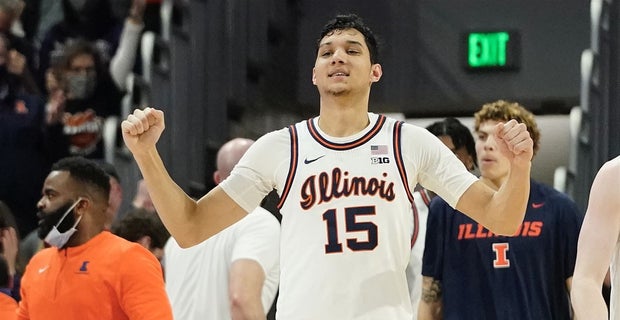 17. Illinois
247Sports Composite class ranking: No. 18
Is Kofi Cockburn in or out? The Fighting Illini big man could once again give Illinois a higher ceiling for pushing back the NBA for one more year. Remember all those Big Ten sophomores who broke out in their second seasons this year? RJ Melendez could have next as an athletic wing stepping into more opportunity. He'll have help: Coleman Hawkins could be one of the Big Ten's best do-it-all threats at forward, and incoming freshman Jayden Epps could hit the ground running. The Fighting Illini figure to be major players in the portal as well.
18. Villanova
247Sports Composite class ranking: No. 13

This may provide affirmation of Jay Wright as much as anything, as the Wildcats say goodbye to Collin Gillespie and Jermaine Samuels. Justin Moore isn't likely to be ready for the start of the season either, should he return, but the cupboard is far from bare with Eric Dixon and Wright's usual plethora of talented wings (and a couple more players who could return for super senior seasons). A transfer point guard to replace Gillespie might help, and freshmen Cam Whitmore and Mark Armstrong could factor in immediately.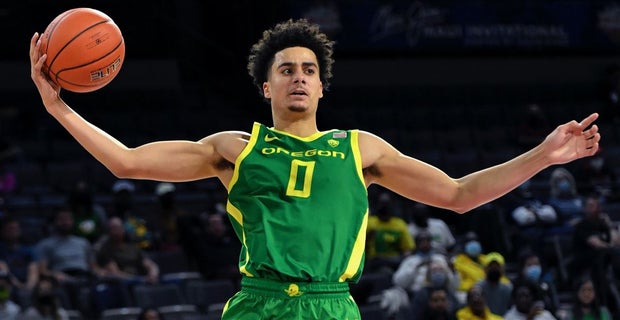 19. Oregon
247Sports Composite class ranking: No. 16
This could be some kind of bounce-back year for the Ducks with the addition of two five-star players in Kel'el Ware and Dior Johnson. The question is where the Ducks go from there. Will Richardson has an extra year of eligibility, and there's a good chance he'll return for a repeat of his senior year. De'Vion Harmon, N'Faly Dante and others could help push this team to the NCAA Tournament's second weekend.
20. Purdue
247Sports Composite class ranking: No. 26
Zach Edey was among college basketball's most efficient players, and now he isn't splitting minutes. And he'll be supported well by passers and shooters around the arc, with Mason Gillis, Caleb Furst and Ethan Morton. If senior Eric Hunter Jr. opts to return and use his COVID year, that'd be a huge boost to the Purdue backcourt. But the Boilermakers are on the lookout for a top-notch transfer point guard, and appear to sit well with one of the portal's best: Kansas State's Nijel Pack. Pack isn't included in this ranking, meaning if the Boilermakers landed a player of that category, this ranking would see a boost.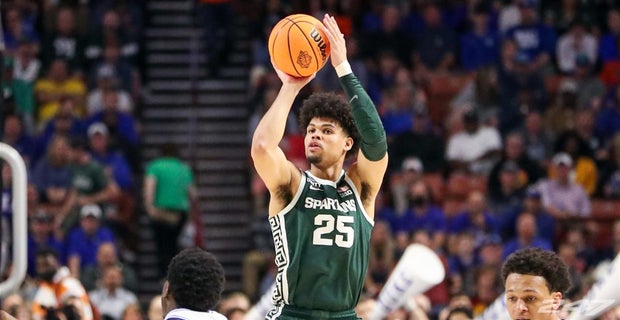 21. Michigan State
247Sports Composite class ranking: No. 33

Max Christie is testing the waters, but should he return, he could take a step into stardom next to seniors-to-be like Malik Hall, Julius Marble and Tyson Walker. The Spartans could also have another year from AJ Hoggard and Jaden Akins. A big-time center would seem to seal Michigan State's status as a potential second-weekend team.
22. Colorado
247Sports Composite class ranking: No. 76

Colorado rolls deep next year with young talent and shooters around developing star Jabari Walker. KJ Simpson and Julian Hammond both showed flashes as freshmen, and a 3-4-5 grouping that includes juniors-to-be Walker, Luke O'Brien and Tristan da Silva has three players 6-foot-8 or taller who can shoot.
23. USC
247Sports Composite class ranking: No. 6

Could Isaiah Mobley take off even more with a legitimate center next to him again? And can incoming five-star Vince Iwuchukwu provide the rim protection to hold down that spot? Forwards Kijani Wright and Tre White add more pop, and the Trojans should once again suit up a troubling amount of length.
These aren't necessarily the next 20 teams after the top 23, but rather 20 more teams that could hop into the rankings depending on how things shake out this offseason.
Colorado State — David Roddy projects as a a potential second-round pick and is testing the NBA Draft waters. If he returns to school, alongside players like Isaiah Stevens, Kendle Moore, John Tonje and James Moors, the Rams could easily push into top-25 status.
Dayton — The Flyers won 24 games this year, including multiple wins over NCAA Tournament teams, with the youngest roster in college basketball, one that didn't include a single senior among the Flyers' regulars. Anthony Grant could reap the rewards of this season if he can keep that roster together.
Davidson — Even with Michael Jones entering the portal, Davidson could have a high ceiling should Luka Brajkovic return for his extra season and if Hyunjung Lee comes back. Without both, you still have Foster Loyer, a team coached by Bob McKillop and a chance to reload in the portal.
Florida State — Another team that could easily leap into the top 25 depending on a few decisions. Matthew Cleveland returning is big; now the wait is on for young talents like John Butler and Jalen Warley. Don't sleep on the addition of Brown's Jaylan Gainey by transfer; his defense should help him see the court under Leonard Hamilton
Marquette — Shaka Smart's first Golden Eagles team reached the NCAA Tournament despite starting three freshmen in Justin Lewis, Tyler Kolek and Olivier-Maxence Prosper. And that doesn't count forward Oso Ighodaro, who played extensively as a freshman this year as well.
Memphis — The Tigers are one of the harder teams to get a legitimate grasp on. It doesn't help to lose players like Landers Nolley and Earl Timberlake to the portal, nor Jalen Duren, Josh Minott and DeAndre Williams likely to the NBA. Can Memphis get any of those players, along with Lester Quinones, who is testing the waters, or Emoni Bates back?
Mississippi State — Iverson Molinar is testing the waters, but he could have a terrific season if he returns to play for new coach Chris Jans. Pairing him with Tolu Smith would give the Bulldogs one of the best point guard/big man combinations in the SEC.
Notre Dame — The Fighting Irish are set to bring back four of their top-six players from a team that reached the second round of the NCAA Tournament. And bringing in top-30 combo guard JJ Starling should ease some of the stings of losing Blake Wesley to the NBA.
Oklahoma — The Sooners are getting Elijah Harkless and Tanner Groves back for their extra seasons of eligibility, and Umoja Gibson still has a decision to make. Oklahoma ended the year playing at a high level, and could be even better (and certainly more consistent) in 2022-23.
Oklahoma State — The Cowboys displayed admirable fight with a young roster without a postseason to play for this past year. The Avery Anderson/Rondel Walker/Bryce Thompson backcourt could be excellent, with Kalib Boone and Moussa Cisse holding things down inside and young talent to continue to develop.
Providence — With such an experienced team this year, Ed Cooley will have work to do in the transfer portal. But Ed Croswell announcing his return helps, and he should team with Jared Bynum to give the Friars a solid foundation. More help is needed.
Saint Louis — It looks like the Billikens could lose Jordan Nesbitt to the NBA, but that loss is offset by returning Javonte Perkins, who missed this season with an ACL injury. That, and the return of Saint Louis' other four starters make this a team to be reckoned with.
Texas — Courtney Ramey entering the NBA Draft and transfer portal hurts; both his talent and his experience would have been invaluable. But Chris Beard is comfortable tapping into the transfer portal, and he has two five-star recruits incoming in point guard Arterio Morris and athletic wing Dillon Mitchell, joining returnees Dylan Disu and Devin Askew.
Texas A&M — Losing Quenton Jackson is never an easy thing with the way he played, but the Aggies could return their other four starters from a team that ended the year on an 11-2 run and finished just outside the NCAA Tournament field. Buzz Williams is building something in College Station.
Texas Tech — Good luck trying to predict the exact group Mark Adams will have at his disposal: there are a lot of moving pieces. Terrence Shannon entering the transfer portal is an unwelcome development, but the Red Raiders got former recruit Jaylon Tyson back the other way, and Kevin McCullar could return after testing the waters. Add a couple portal pieces, and the Red Raiders could be second-weekend bound again.
UConn — Jordan Hawkins has star potential, and if the Huskies can keep players like Adama Sanogo and Andre Jackson in the fold and fill out the roster between them, Dan Hurley could have a chance to land his first NCAA Tournament win at UConn.
VCU — There are worse things in the world than returning three starters from a 22-win team, then adding three former top-100 recruits, including one from the transfer portal in former Michigan guard Zeb Jackson. Mike Rhoades' group looks ready to go dancing in 2023.
Virginia — Do you believe in Tony Bennett's defense? The Cavaliers haven't been their usual elite selves on that end of the court the last two years, but if it jumps up in that category Virginia could be a sleeper. Jayden Gardner still has a decision to make, while Armaan Franklin ended the year on a high note next to Reece Beekman and Kadin Shedrick.
Wyoming — Hunter Maldonado is testing the NBA Draft waters, but his return alongside Graham Ike and company could push the Cowboys into the top 25 after they won 25 games and reached the NCAA Tournament this past season.
Xavier — The Musketeers' new/old coach, former Xavier and Arizona boss Sean Miller, could inherit the bulk of a roster that won the NIT. That's a great start, but shouldn't be seen as the end of his plans for 2022-23, with a chance to add through the transfer portal and potentially a surprise recruit to join a class that already has two four-star players.