A photograph of a census enumerator visiting a Virginia household during the 1950 Census. The personal information of that census was released just after 10 p.m. MDT on Friday. (National Archives)
Estimated read time: 7-8 minutes
Editor's note: This article is a part of a series reviewing Utah and U.S. history for KSL.com's Historic section.
SALT LAKE CITY — For as much as Jim Ericson knows about his father, he doesn't quite know where he was or what he was up to on April 1, 1950.
It's a small detail of his lineage he finds interesting. He believes his father may have been enlisted in the Army at the time; however, that picture remains fuzzy to this day.
"I think he may have been in San Francisco in the census on an Army base — but I don't know that," he said.
It's not like Ericson can call up his dad or drop by to ask, either, since his father is no longer alive. This is why, on a personal scale, he is excited that the 1950 census information is now available.
The National Archives and Records Administration released millions of digital images containing all the personal information filled out from the 1950 census, as the 72-year embargo on that information expired at 10 p.m. MDT on Friday. It's a big deal for genealogy enthusiasts across the county, like Ericson.
He's hopeful his father was enumerated, so the story of his father becomes just a little bit clearer. He can find out where his father lived and what he was doing about a year and a half before he got married and the life Ericson remembers growing up began.
But as the marketing manager for FamilySearch's North America and Europe operations, Ericson is thrilled considering the census can help answer these questions for many American families. That's why he and other Utah experts are now at work making putting the information together so it's easier for people to find.
"I hope they get their curiosity satisfied," said David Rencher, the director of the Family History Library. "A lot of people who will be in the 1950 census aren't living anymore, so it's not like you can ask them questions about the family."
Why does this information matter?
The first day of April two years after a new decennial census is conducted is no joke for historians and genealogists, especially Utah-based nonprofit organizations like FamilySearch — operated by The Church of Jesus Christ of Latter-day Saints — or businesses like Ancestry. This is when the "72-Year Rule" is lifted and all the personal information collected from a census taken 72 years earlier becomes available.
It unlocks information such as where someone was living at the time, who they were living with and so much more. There are also income, job, education and other information from Americans in 1950.
"They are extremely valuable because they're one of the few records where you get the context and the snapshot of what a family grouping, or associated people, were doing at a point in time. We only get that snapshot every 10 years," Rencher said, listing off all the changes that may have occurred from the 1940 census.
The record change may show births, deaths, marriages, divorces, relocations, new occupations and so much more in the context of one's family.
As this release date neared in recent weeks, experts noticed online posts and comments from those who shrugged off the data release, either because they've done their own family research going as far back as the 1800s or they didn't know where to start in family history.
Whether someone is new to the game or a seasoned veteran, genealogists believe there's plenty to gain from of the 1950 census records. For instance, given its relative recency, Jimmy Zimmerman, FamilySearch's North America experience manager, said it's likely people will find a parent or a grandparent in the information.
"These records are a gateway for people in more recent generations," Ericson added. "If you want to know more about who you are or where you come from, this really is a gold mine to learn more about recent generations that are sometimes overlooked (in genealogy) because our lines do go so far in the past."
Ironically, sometimes the toughest information to find comes from the people closest to you on the family tree. For instance, Ancestry published a survey on Wednesday that found 53% of Americans can't name all four grandparents.
---
I can't speak for everyone, but some people will be surprised by where their family was living (in 1950). A lot of people don't know where their family was before that happened.
–Jim Ericson, FamilySearch
---
Sometimes this is a result of grandparents going by nicknames, Ericson explains. When he participated in an outreach event in New York last year, he met someone who wanted to know the name of their great grandmother simply from the fact she was referred to as "Big Momma" throughout the time the person knew her.
That person, much like two-thirds of the people who participated in the Ancestry survey, wanted to know more about their family's history. About half of the respondents added they wanted to know more stories about their ancestors when they were young and what life was like for them at the time.
The 1950 census answers some of that through all the information current at the time it was filled out.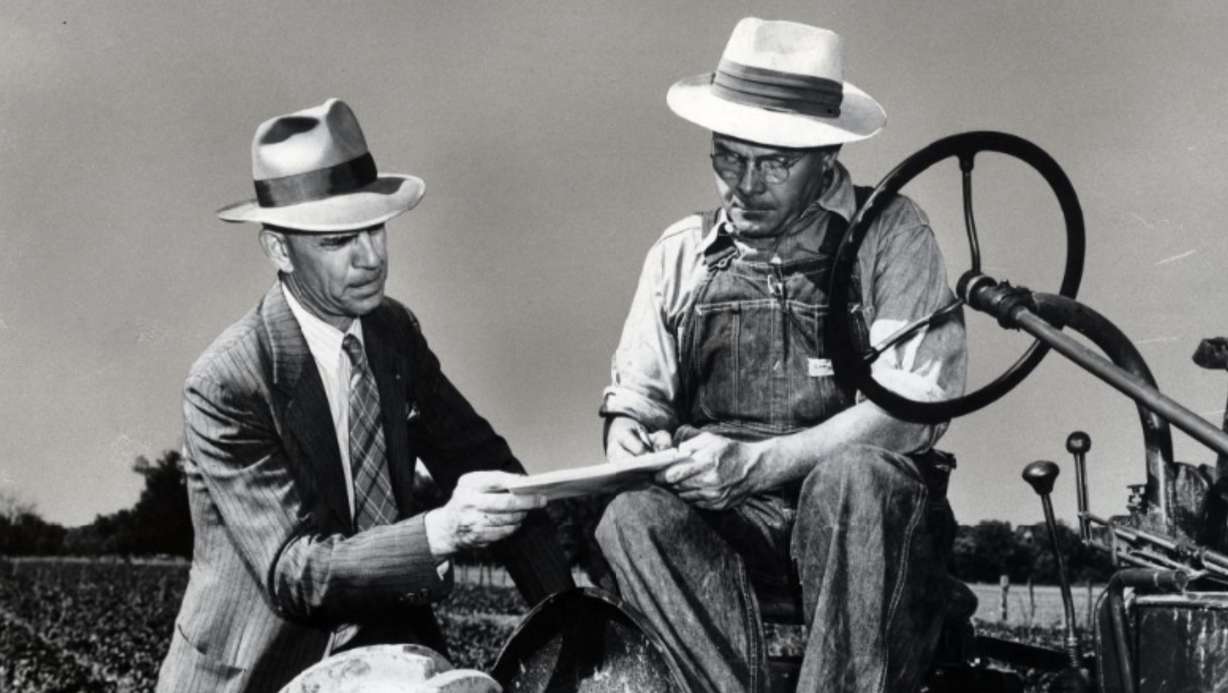 This can ultimately change the perspectives people have of their own parents and grandparents. Take into consideration that the 1950 census is considered the last before the rise of suburban America. Genealogists say people sifting through these records may be surprised to find an ancestor living in a city, not the suburban home they have memories of.
"I can't speak for everyone, but some people will be surprised by where their family was living (in 1950)," Ericson said. "A lot of people don't know where their family was before that happened."
The race to collect and redistribute the information
FamilySearch began building up anticipation for the Friday release months ago, posting various tidbits regarding what to expect from the 1950 census. More blog posts highlighting interesting information from the results are expected in the future.
The 1950 census information was then finally released in the form of over 6.5 million digital images showing 1950 census responses, Indian reservation schedule forms, and forms from Americans overseas at the time of the census.
While it's available online through the National Archives and Records Administration website, it may be difficult to find records if you don't know what you're looking for or if the handwriting is too difficult to decipher. That's why experts like FamilySearch and Ancestry came prepared.
Zimmerman said the images will be downloaded through the government's cloud server before they are pulled into FamilySearch's own system. Once that's complete, a team of employees and volunteers from FamilySearch and Ancestry will race to create a searchable index for people to find the information they want as easily as possible.
The timeline for when all the information will be made available in a searchable index is unknown. It depends on how quickly it's translated. The team will use Ancestry's handwriting recognition software to do the initial indexing right away before it's handed over to FamilySearch so it can review the work.
Over 50,000 people have also registered their interest in volunteering to help ensure the index format is correct, Ericson said. He added that the more people who help, the faster the publication of information will be. As it stands, it's likely that information will be released state by state and people will need to sign up online for notifications to know when their family's records are available.
Rencher says he knows most people who look at the information will think it's interesting and move on. But he believes, given increased interest, there will be plenty of people who use the 1950 census as a starting point on a new journey into family history. He hopes the index will guide the way, as people go into earlier census records.
Either way, Utah genealogists are happy to play a part in making the records just a little bit easier to piece together.
"We're excited to make a difference in the genealogical community," Ericson said, "and help anybody who wants to find their family in the 1950 census."
×
Related Stories
Carter Williams is an award-winning reporter who covers general news, outdoors, history and sports for KSL.com. He previously worked for the Deseret News. He is a Utah transplant by the way of Rochester, New York.
More stories you may be interested in